So by joining the Red Hat developer program you get access to the latest Red Hat technologies at no cost. The only "catch" being the requirement to sign up and share your personal information with Red Hat. I've resisted the urge to make good on this offer for a long time, but I finally broke down and signed up earlier this year.
The developer program also gives you access to the Red Hat knowledge database, something I've wanted for a very long time. I've lost count of how many times I've cut my teeth on the "subscriber exclusive content" gatekeeper while troubleshooting some issue.
At long last, all that knowledge is available to me free of charge! Well, at least until Red Hat does a background check on the "personal information" I provided them with ;-)
Getting started with RHEL
The first thing we need to do is to join the Red Hat developer program. While you're signed in with the developer program, make sure to download the latest Red Hat Enterprise Linux release or simply pick your poison.
While your iso is downloading, you should head over to the Red Hat customer portal and confirm that you're registered with an active subscription. Log into the service using the same username and password you signed up with over at the developer program. Then navigate to the subscription management page and look for your developer subscription.

Installing and activating RHEL
After the installation process has completed, you'll have to accept the license terms and activate your subscription. This process launches automatically on the first boot of the system. The activation process is far from complicated and consists of the following steps:
Select your subscription management service. Simply proceed by using the "default" button and continue to the next step.
Autenticate with the username and password you entered during the developer signup process.
That's all folks, you may now pick and choose from Red Hat's vast collection of enterprise software. Familiarize yourself with the terms and conditions of the developer program and experience the enterprise side of GNU/Linux.
No thanks, Red Hat is evil
Sure, all big corporations are evil. The Linux Foundation only caters to commercial interests, W3C sold out to Hollywood and every tech company in Silicon Valley is mining our personal data.
In my opinion RHEL is a solid distribution and a good fit in an environment with Windows-based servers and clients. If you couldn't care less about access to the knowledge base and additional documentation, then there is always CentOS and other derivatives. Personally, I believe the developer program could benefit both Red Hat and Linux users in general.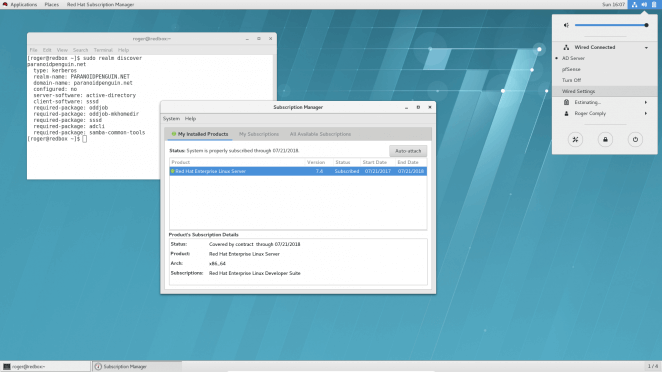 Thank you for reading!
Feel free to waste more time by subscribing to my RSS feed or check out the human-readable sitemap for more content.