VMware Player - Taking ownership of this virtual machine failed
After Windows 8.1 had performed an unscheduled reboot, I was greeted with the following error message when trying to start up a virtual machine in VMware Player:
This virtual machine appears to be in use.
If this virtual machine is not in use, press the "Take Ownership" button to obtain ownership of it. Otherwise, press the "Cancel" button to avoid damaging it.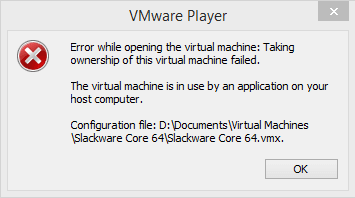 Trying to take ownership of the virtual machine fails with a message stating that the machine is already in use. However, the issue is easily resolved.
Looking at the documentation, the entry for "Configuring and Maintaining Virtual Hard Disks" details the issue:
A running virtual machine creates lock files to prevent consistency problems on virtual hard disks. Without locks, multiple virtual machines might read and write to the disk, causing data corruption. Lock files have a .lck suffix and are created in subdirectories in the same directory as the virtual disk (.vmdk) files. When a virtual machine powers off, it removes the locking subdirectories and the lock files
As expected, the directory for my virtual machine shows the lock files left from the unscheduled reboot. Deleting the folders with the .lck suffix fixes the problem and the virtual machine will now be able to start up as normal.