Slackware Linux 14.0 powering a Dell Dimension 8200
During the easter holiday my Dell Studio 1735 died suddenly without hope of resurrection. This left me with my Windows 7 based gaming rig for all computer related endeavors.
Windows 7 might be one of the better operating systems to ever come out of Redmond, but after a few days of consistent usage it was clear to me that my days as a Windows user was numbered.
The only viable option apart from setting up a dual boot environment on my gaming station was to drag down an old Dell Dimension from the attic. This particular workstation was over a decade old and I was curios as to wether an installation of the latest Slackware Linux 14.0 was even possible. I am aware that there are distributions who specializes on revitalizing older hardware, but I've yet to experience hardware that Slackware couldn't handle.
System specifications:
Dimension 8200
Pentium(R) 4 CPU 2.40GHz
512MB RAM
80GB Maxtor HDD
nVidia GeForce4 Ti 4600 GPU
Turtle Beach Santa Cruz sound card
Year manufactured: 2002

I performed the default installation but skipped the KDE package series as my aim was to configure a lightweight desktop. There were no problems during the installation as far as I can remember and hardware detection was never an issue. It went pretty much like any other installation I've performed albeit a bit slower.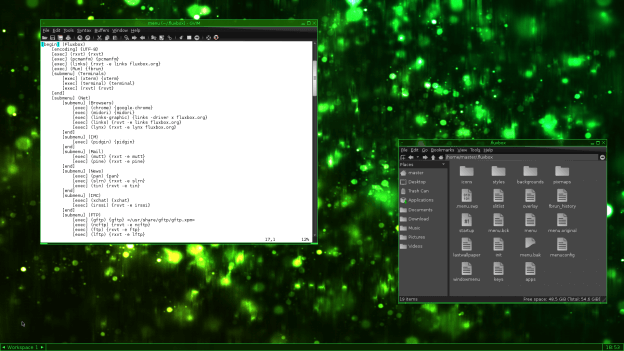 I decided to pick Fluxbox as my default window manager as speed and responsiveness was of an essence. This decision came somewhat reluctantly as I've always considered Fluxbox to a bit underwhelming and feature lacking. After doing some reasearch and reading through the Fluxbox wiki, I soon realized I was wrong on all accounts when judging Fluxbox as stale and feature lacking. Actually, you might customize, tweak and style Fluxbox to any length, and best of all, it's dead simple.
The desktop experience was above expectations. This Dimension 8200 workstation has never been more responsive and the system fired on all cylinders. As for hardware issues, I did not notice any problems. Even some exotic components like the Santa Cruz sound card worked out of the box.
I installed the Midori web browser and PCManFM file manager to have some lightweight applications for common tasks in addition to the default selection of software. After installing the flash plugin I was also able to enjoy YouTube videos without issues, although 720p and above resulted in choppy video as expected. The same holds true for viewing media files in high definition, but the system was never designed with those resolutions in mind. The only time old hardware really became an issue was when compiling software from source as that process would go on for quite a few hours.
Anyhow, I am pleased to see that there is still a decent life to be had for an aging Dell Dimension 8200 when powered by a modern Linux based operating system. It also speak of the quality of the old Dell Dimension series that I was even able to turn it on after all these years. Those old timers were really built to last.